Home
Providing Consultation and Assistance with Continuing Care Planning

Prolonged illness, an accidental fall, or noticeable memory loss are only a few of the possible factors contributing to a family's realization that the healthcare needs of an aging loved one are changing. No matter how close you live or how frequently you visit, the news usually comes unexpectedly and with some degree of urgency.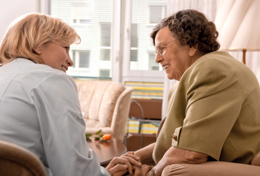 Safe Harbors was created to ease the stress and frustration associated with making difficult decisions regarding a loved one's transition to a higher level of care. Whether you are in need of immediate assistance or interested in long-term planning, our goal is to save you time and money by helping you evaluate your situation, suggesting care alternatives, and recommending reputable healthcare providers.
Our Services allow you time to concentrate on providing the love and understanding.